15 March – 25 May 2019
Layover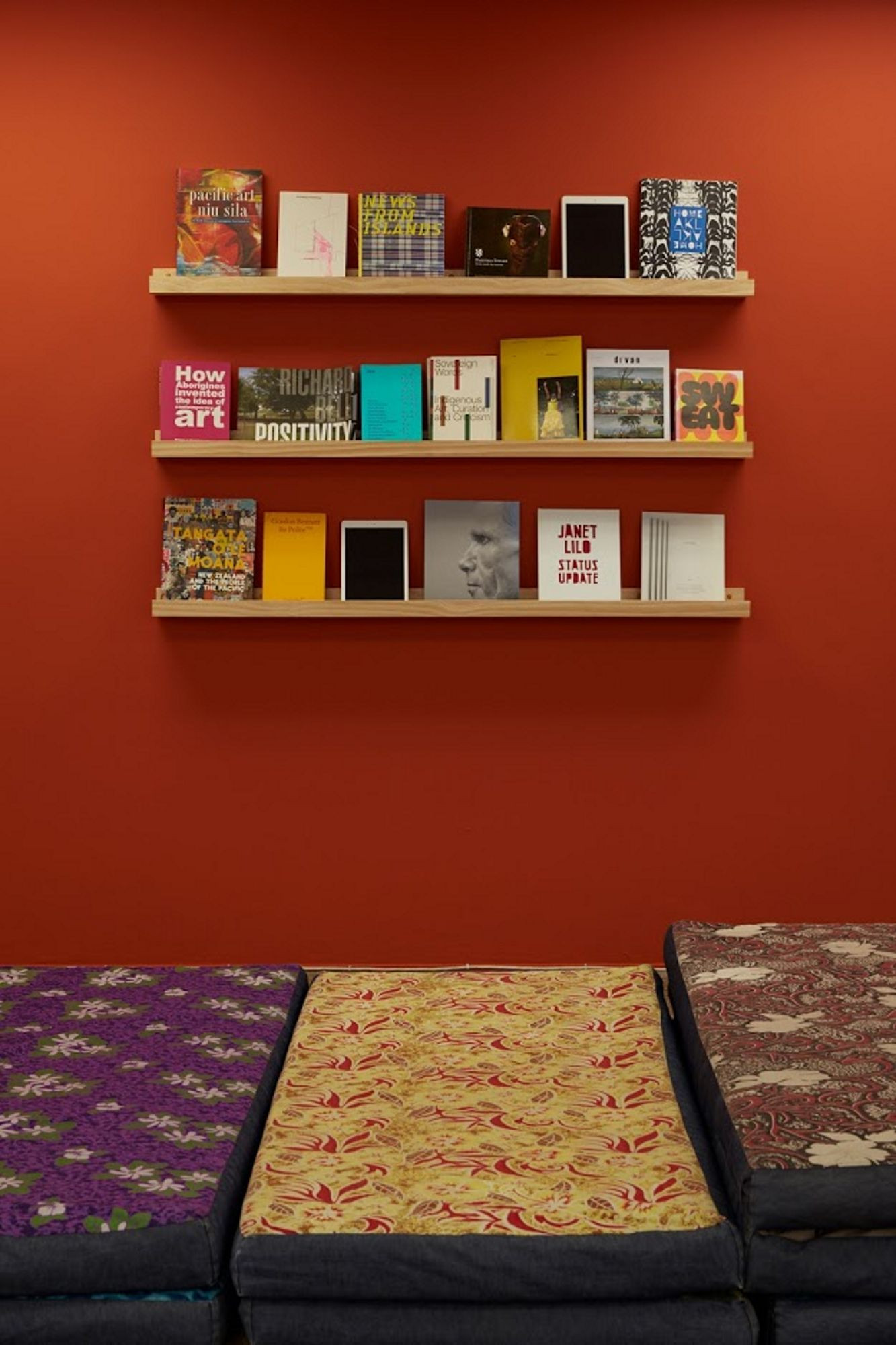 BC Collective (Ngāpuhi, Tainui, Alofi, Liku, Lakota Sioux) with Louisa Afoa (Sāmoa)
Edith Amituanai (Sāmoa)
A layover, as the middle point of journey, can act as a moment of respite. It can also encompass a delayed arrival, a change in direction, and the anticipation of the next movement. A layover then, is about being-in-motion. For Layover, this concept of being-in-motion is used as a tool to discuss the complex ways in which culture moves physically, spatially and over time. How do we actualise a 'home' within moments of movement? Delving into these questions, Layover includes new commissions alongside existing work from Edith Amituanai and BC Collective with Louisa Afoa.
Edith Amituanai has developed ongoing photographic studies of Sāmoan homes over 15 years. Today, more Sāmoans live in diaspora than in Sāmoa itself. By observing the homes of this transnational population, specifically the homes of global family members, Amituanai makes visible the ways in which Fa'a Sāmoa culture travels and adapts. For Daniel Twiss and Cora Allan Wickliffe of BC Collective, homelands span Te-Moana-Nui-a-Kiwa to Turtle Island meaning that someone must always be away for the other to be home. Through shared experiences of Indigeneity across cultural and geographic contexts, BC Collective play with iconography of home using story, food, hiapo and ceramics.
Layover is the second iteration of an ongoing curatorial project which was initiated in 2017 at the Institute of Modern Art, Brisbane culminating in the exhibition The Commute, with the third iteration called Transits and Returns to open at Vancouver Art Gallery in September 2019. Layover then marks the mid-point of an exhibition journey too. Within this ongoing movement, Layover offers a place to be still, a site of consideration, a moment in transit, and the chance to look forward into the past.
Layover is a collaborative project led by Indigenous curators Sarah Biscarra Dilley (yak titʸu titʸu yak tiłhini Northern Chumash, Chicana), Freja Carmichael (Quandamooka), Léuli Eshraghi (Sāmoa, Irān, Guangdong), Tarah Hogue (Métis, Dutch Canadian) and Lana Lopesi (Sāmoa).
Founded in 2017, BC Collective is made up of Cora-Allan Wickliffe (Ngāpuhi, Tainui, Alofi and Liku) and Daniel Twiss (Lakota Sioux, Rosebud Reservation) and was initiated as a way to share, engage and exchange Indigenous ideas and concepts. Cora-Allan is a multidisciplinary artist from Waitakere. In 2016 she returned to Aotearoa after working at the Walter Phillips Gallery in Banff, Canada. Her practice often examines constructed identities of indigenous people, developing platforms for the self-determination of such representations. Daniel was raised in Vancouver, Washington. His family relocated for a year to the Coeur D'alene Indian Reservation in Plummer, Idaho. His late father Richard Twiss was the co-founder of the Wiconi organisation and a Professor of Native American Studies at Portland State University.
Louisa Afoa is a Tāmaki Makaurau based artist whose work often responds to lived experiences as a way to comment on social issues, while also giving insight into the lives of the communities that she belongs to. Her recent exhibitions include Projects, Auckland Art Fair, 2018; Between you and Me, ST PAUL ST Gallery, Auckland, 2018, and Heavenly Creatures, Verge Gallery, Sydney, 2018.
Edith Amituanai (Sāmoa) has paved the way for many lens based Pacific practitioners. She was the youngest artist to feature in Contemporary New Zealand Photographers, a major survey of photography published in 2005. Two years later Edith won the inaugural Marti Friedlander Photography Award, and the following year she was the first Walters Prize nominee of Pacific descent. Her works have exhibited extensively both around New Zealand and abroad, and belong in a number of public and private collections. She is represented by Anna Miles Gallery, Auckland.