22 April – 10 June 2023
Far, far away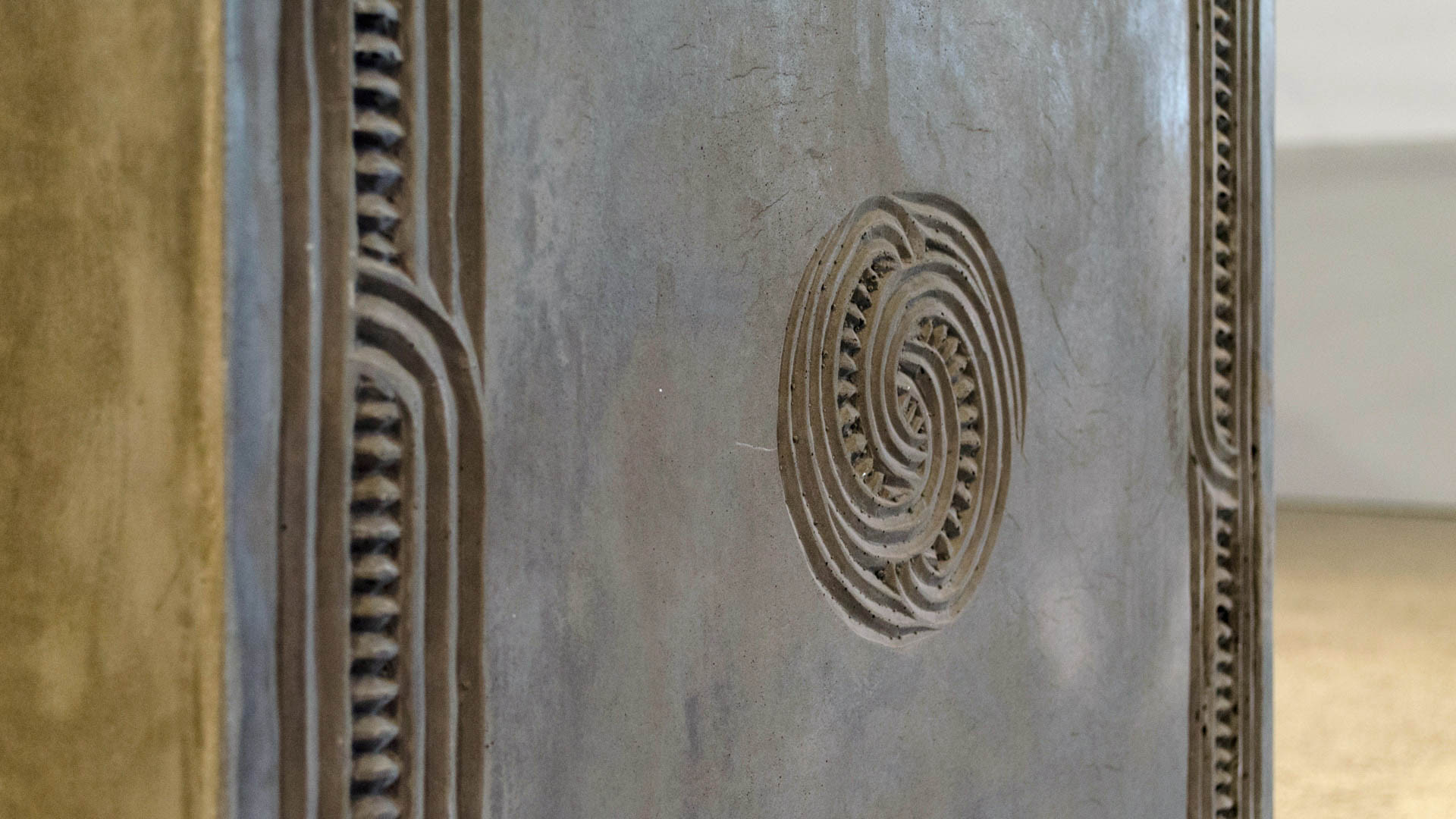 Consider the original use of the building in which Artspace Aotearoa is located. Purpose built as a post office and opened to the public in June 1973, it subsequently processed mail for the inhabitants of Tāmaki Makaurau for decades. Each day messages that contained life's complexity passed through the doors via the letters sent between family members, friends, businesses, government agencies. Close your eyes. What letter would you write to yourself? What letter would you wish to receive? Taken as an expanded form of the epistolary, Hassett's practice emerges as a process of correspondence between a past and a future self.
The correspondence between two particular experiences becomes concrete in the gallery space on Karangahape Road through the production of a new sculptural work positioned at its centre. One: the recognisable routine of hanging the washing out in the garden. Where is your garden? What does it smell like? What can you hear? Two: a walk through the city, any city, encountering multiple monuments that represent the same value system over and over again.
Hassett gathers these contrasting encounters from daily life together and etches into them. In doing so, he conjures an autobiography that emerges specifically from an experience of urban Indigeneity. Here, the sense of a letter sent somewhere weaves lines through time and connection, through Maui, Rauponga Whakarare, and Rauponga Haehae* to evolve a project of cultivation.
*These patterns appear in the exhibition. These same patterns appear frequently in carving from Ngati Porou, particularly in relation to genealogy.
Our programme 2023
This year we explore the question "where does my body belong?" To have a body is a pre-existing condition we all live with and in, and spend our lives coming to know what this could mean. While we are all born with a body, each body comes with its own unique capacity and limitations. The whether or how these capacities and limits unfold is greatly determined by the society into which we emerge. This year we consider the vast range of what it is to have a body, be a body, and participate within the systems that enlarge or confine us in the dynamic friction of our daily life.
Biographies
Chevron Hassett, born in Lower Hutt, Aotearoa is an artist of Ngati Porou, Ngati Rongomaiwahine and Pākehā heritage. He graduated with a Bachelor of Design with Honours from Massey University in 2017, received the CNZ Nga Manu Pirere award in 2017 and was a recipient of The Arts Foundation Springboard award in 2022. Having exhibited both in Aotearoa and Australia, Hassett's primarily lens-based practice is led by the essential spirit of whanaungatanga, the concept of connecting, building and maintaining relationships within communities.
Brett Graham, of Ngāti Koroki Kahukura and Tainui, lives in Waiuku. Graham is a sculptor who creates large scale artworks and installations that explore Indigenous histories, politics and philosophies. His work has been included in international contexts including the Honolulu Biennale, the Sydney Biennale, and the Venice Biennale. Most recently, Graham's body of work Tai Moana Tai Tangata toured Aotearoa with iterations at the Govett Brewster Art Gallery, City Gallery Wellington, and Christchurch Art Gallery Te Puna o Waiwhetū.
Tia Pohatu is an educator currently engaged at Naenae College in the Social Science and Visual Arts departments. Pohatu teaches across year levels in Social Studies, History, and Indigenous Art History. She gained a Bachelor of Visual Arts and Design from Whitecliffe College. Pohatu also holds a Bachelor of Arts with a major in History and minor in Māori Studies, a Bachelor (Honours) in History and a Masters of Arts (Museums Studies) all from the University of Auckland.
Carolyn Lazard is a multidisciplinary artist based in New York and Philadelphia. Their work has been shown in several institutions including MMK, Frankfurt; MoMA, New York; mumok, Vienna; KW, Berlin and the Hamburger Bahnhof, Berlin. Recent solo exhibitions include Long Take a co-commission between the Walker Art Center, Minneapolis, Nottingham Contemporary, Nottingham, and The Institute of Contemporary Art, Philadelphia. Their work was included in the 2019 Whitney Biennial and the 2022 Venice Biennale. Lazard is a 2020 Disability Futures Fellow and a 2021 United States Artists Fellow. They hold a BA from Bard College and an MFA from the University of Pennsylvania.
Roger Robinson is a writer and performer who lives between London and Trinidad. His first full poetry collection, The Butterfly Hotel, was shortlisted for The OCM Bocas Poetry Prize. He has toured extensively with the British Council and is a co-founder of both Spoke Lab and the international writing collective Malika's Kitchen. The poem republished on the Reading room appears in Robinson's 2019 collection A Portable Paradise.